The Evolutionary World Designer is an ongoing research project that was awarded with a 2-year Research Grant by the Crafoord Foundation in 2017.
In summary, the Evolutionary World Designer has produced the application called the Evolutionary Dungeon Designer (EDDy). EDDy has been used as the main research framework at Malmö University in 14 peer-reviewed scientific papers in the field of Game Artificial Intelligence, two MSc theses, seven Bachelor theses, one licentiate thesis and one doctoral thesis at the Faculty of Technology and Society, Malmö University (MAU).
EDDy is a Mixed-Initiative Co-Creativity (MI-CC) tool for game designers to create adventure and dungeon crawler games. In EDDy designers can create and edit the overall dungeon and its composing rooms, as well as narrative elements such as quests, objectives, and overarching narrative structures. Designers are provided procedurally generated suggestions using Evolutionary Computation and Machine Learning, which they can use either as inspiration to work on or as a finished design. Both options fluently alternate during the creation process by means of a workflow of mutual inspiration, through which all manual editions performed by the user are fed into the underlying algorithm.
Through EDDy, we aim at exploring Human-AI collaboration for the creation of games, particularly, level design and narrative elements. We also explore different Human-AI interactions, roles and properties, and ways of creating adaptable experiences by adapting the content generation towards designers preferences and styles, and design processes.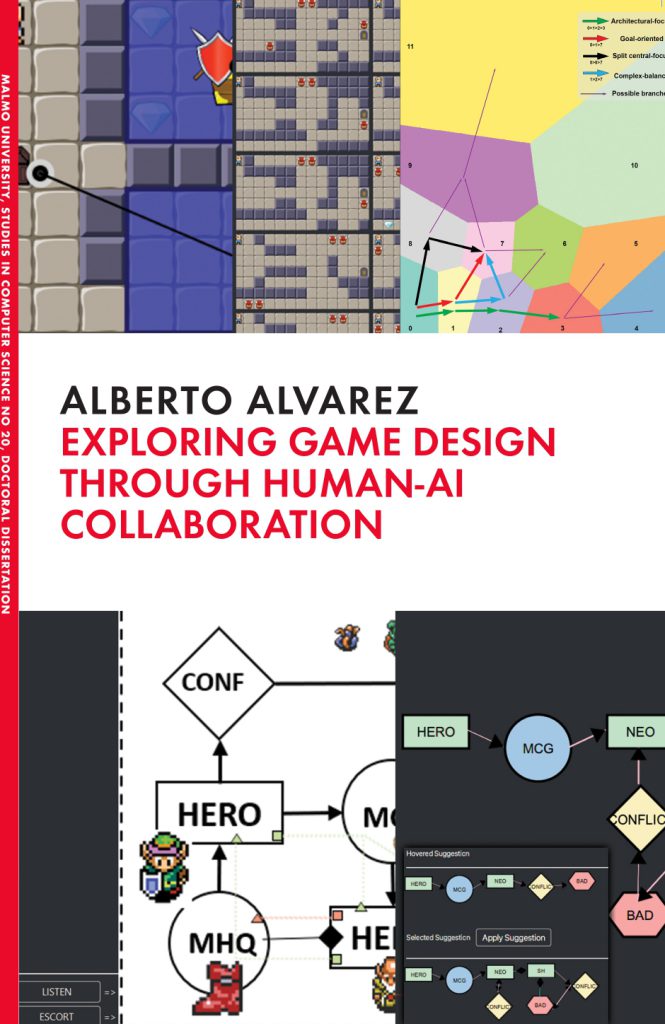 Related publications
Exploring Game Design through Human-AI Collaboration, A Alvarez – PhD Dissertation, Malmö University, 2022
Towards AI as a Creative Colleague in Game Level Design, T Larsson, J Font, A Alvarez – Proceedings of the AAAI Conference on Artificial Intelligence and Interactive Digital Entertainment, 2022
Story Designer: Towards a Mixed-Initiative Tool to Create Narrative Structures, A Alvarez, J Font, J Togelius – Proceedings of the 17th International Conference on the Foundations of Digital Games, ACM, 2022
TropeTwist: Trope-based Narrative Structure Generation, A Alvarez, J Font – Proceedings of the 13th PCG Workshop at the 17th International Conference on the Foundations of Digital Games, ACM, 2022
Designer Modeling through Design Style Clustering A Alvarez, J Font, J Togelius – IEEE Transactions on Games, 2022
Assessing the effects of interacting with MAP-elites A Alvarez, J Font, S Dahlskog, J Togelius – Proceedings of the AAAI Conference on Artificial Intelligence and Interactive Digital Entertainment (AIIDE), 2021
Questgram [Qg]: Toward a Mixed-Initiative Quest Generation Tool A Alvarez, E Grevillius, E Olsson, J Font – The 16th International Conference on the Foundations of Digital Games, ACM, 2021
Interactive constrained map-elites: Analysis and evaluation of the expressiveness of the feature dimensions A Alvarez, J Font, S Dahlskog, J Togelius – IEEE Transactions on Games, 2020
To Make Sense of Procedurally Generated Dungeons S Tolinsson, A Flodhag, A Alvarez, J Font – Extended Abstracts of the 2020 Annual Symposium on Computer-Human Interaction in Play, ACM, 2020
Learning the designer's preferences to drive evolution A Alvarez, J Font – International Conference on the Applications of Evolutionary Computation, Springer, 2020
Empowering quality diversity in dungeon design with interactive constrained MAP-Elites A Alvarez, S Dahlskog, J Font, J Togelius – 2019 IEEE Conference on Games (CoG), 2019
Fostering creativity in the mixed-initiative evolutionary dungeon designer A Alvarez, S Dahlskog, J Font, J Holmberg, C Nolasco, A Österman- Proceedings of the 13th International Conference on the Foundations of Digital Games, ACM, 2018
Assessing aesthetic criteria in the evolutionary dungeon designer A Alvarez, S Dahlskog, J Font, J Holmberg, S Johansson – Proceedings of the 13th International Conference on the Foundations of Digital Games, ACM, 2018
Towards pattern-based mixed-initiative dungeon generation A Baldwin, S Dahlskog, JM Font, J Holmberg – Proceedings of the 12th International Conference on the Foundations of Digital Games, ACM, 2017
Mixed-initiative procedural generation of dungeons using game design patterns A Baldwin, S Dahlskog, JM Font, J Holmberg – IEEE Conference on Computational Intelligence in Games, 2017
Constrained level generation through grammar-based evolutionary algorithms JM Font, R Izquierdo, D Manrique, J Togelius – European Conference on the Applications of …, 2016